ReportageNear the Vatican, Camilla Bronzini, Francesca Neri Serneri and Antonella Perugini perpetuate the ancient know-how of the micromosaic, born within the papal city. And imagine jewelry-talismans rich in symbolism.
On the entrance gate of the old yellow ocher building covered in wisteria, a discreet plaque appears to be attached to keeping the address secret. A flight of steps lower, one enters the place where the carriages used to be parked, before the Via Muzio Clementi was raised.
Below this street in the chic Prati district in Rome, the long space accommodates the workshop, offices and showroom-boutique – with multiple windows filled with wonderful jewels – of a jewelery label whose name refers to to a priestess and prophetess of Antiquity. A female figure with a supernatural dimension, told by Virgil and Ovid, represented in the frescoes of the Sistine Chapel by Michelangelo and mentioned among the mythical or historical women of the installation The Dinner Party, by American feminist artist Judy Chicago.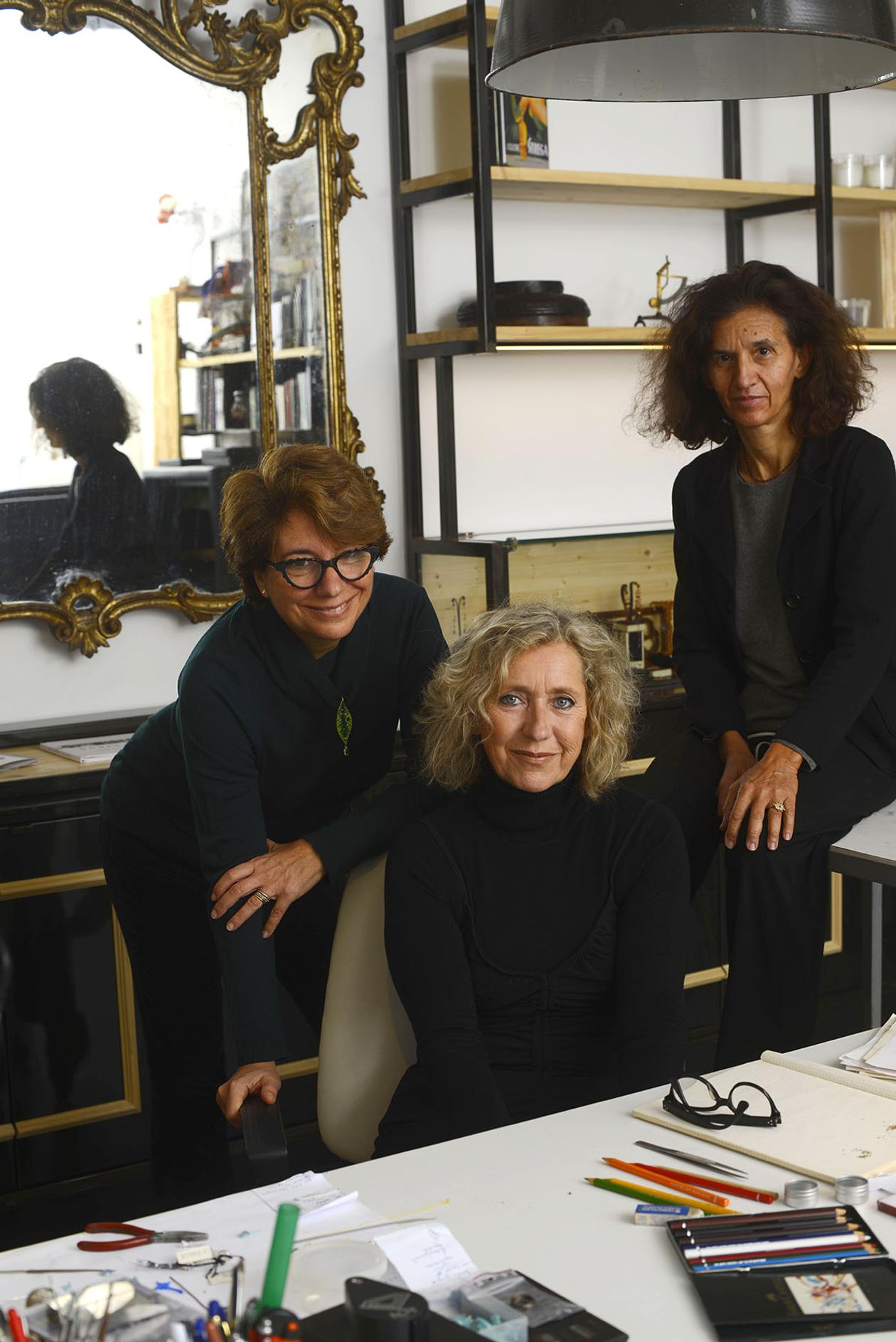 Sibylle, the embodiment of divine wisdom, is said to have lived in a mysterious cave on the mountain of Cumes, a few kilometers from Naples. The Sibyl (the sibyls in French), aka Antonella Perugini, Camilla Bronzini and Francesca Neri Serneri, meanwhile, work in a confidential den with vaulted rooms and cut stones left in apparent places in the basement of a posh building.
Antonella learned goldsmithing from a school that no longer exists today. Camilla went to the Istituto di San Giacomo. After studying archeology, Francesca followed the same curriculum in this school of ornamental arts, discovering the work of gold and ancient techniques. That of the mosaic immediately fascinated her.
Virtuoso art of ancient goldsmithing
From the XVIe century, the Vatican chose to renew massively with this ancient art which made it possible to provide ornamentations more resistant than the paintings of the frescoes. In the mosaic workshop formalized in 1727, today devoted to the restoration and production of works commissioned by individuals or by the Pope for gifts to official visitors, the craftsmen who decorated St. Peter's Basilica also perfected the work of the micromosaic.
"People didn't understand the whole story behind this process. Our colleagues called us crazy, told us it would never sell. »Francesca Neri Serneri
The technique involves heating the glass paste to stretch it into long stems. Once cooled, these small rods, some of which may be only 0.5 millimeters thick, are cut into tiny tesserae that are placed with the help of small pliers in a putty composed of marble powder and d linseed oil which will then harden, fixing the meticulous work representing mythological or religious miniscenas. Portraits and landscapes so fine that you would think they were painted …
You have 48.06% of this article to read. The rest is for subscribers only.
We wish to say thanks to the author of this short article for this amazing content

Le Sibille, a Roman workshop of precious miniatures